During a recent visit to the Indonesian capital Jakarta I was lucky to be taken around town by the most prominent culinary experts of country. They showed me their favorite restaurants, elegant and simple, luxurious and rough, and opened the door to culinary wonders I had not even dreamed of. Jakarta is the only place in the world where you can explore the full variety of the Indonesian cuisine without even leaving the city, tasting food from places as far as Lombok and Borneo as well as the multiple local specialties. Besides the delicious food, Jakarta hotels are trendy and luxurious. A vibrant nightlife can be found in cool and elegant cocktail bars. If you're planning a trip to the Indonesian capital the following tips on hotels, restaurants, bars and street food will help you to make your stay in Jakarta an unforgettable experience.
Jakarta Hotels
The Dharmawangsa Jakarta
The Dharmawangsa Jakarta, a luxurious 5-star hotel with 99 rooms, is set in a peaceful spacious oasis of serenity and timeless architectural design inspired by Indonesian design and heritage. The hotel is located in an upscale area in Kebayoran Baru, South Jakarta, 5 km from the Central business district and 35 km from the Soekarno-Hatta International Airport. The hotel is famous for its mocktails and cocktails which you can enjoy on the spacious patio.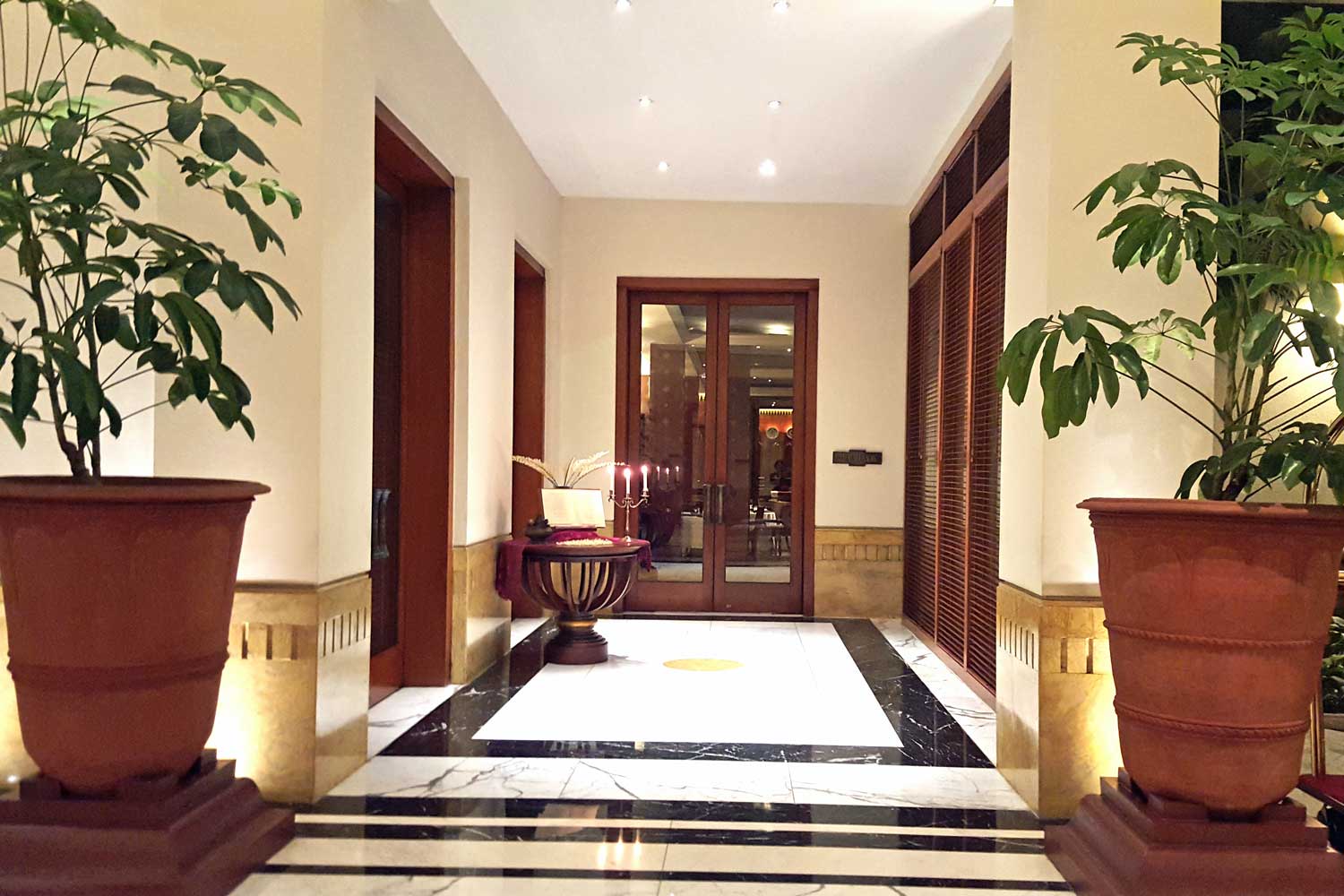 The Dharmawangsa Jakarta
Jl Brawijaya Raya No 26
Jakarta

http://www.the-dharmawangsa.com
Price Category: €€€€
Hotel Borobudur
Hotel Borobudur Jakarta is a 5-star diamond hotel, situated right in the center of Jakarta. Only a stroll away from the Presidential Palace, a quick ride to shopping malls and business districts. It spans across 23 acres of tropical gardens and offers extensive recreational facilities, including a running track through the lush gardens.
Hotel Borobudur
Jalan Lapangan Banteng Selatan
P.O.Box 1329
Jakarta 10710
http://hotelborobudur.com
Price Category: €€€
Kosenda Hotel
Hotel Kosenda is probably the hippest and coolest hotel in town. Right in the center of the bustling city this boutique hotel offers contemporary design, comfortable rooms with en suite bathrooms and very service oriented friendly young staff. The facilities include a roof top bar and the Waha Kitchen restaurant which is open 24 hours. Breakfast is served buffet style with a mix of Asian and continental food. These features make the Kosenda Hotel  the ideal place to stay for transit travelers, creative workers and young urban professionals. There is also free parking and a free fitness center available. I loved it there. For my extensive review click here.
Kosenda Hotel 
Jl. KH Wahid Hasyim No 127
Jakarta
Tel. +62 (0) 21 3193 6868
Fax. +62 (0) 21 3193 6767
http:// www.kosendahotel.com
Price Category: €€
Jakarta Restaurants
Borgor Cafe
The Borgor Cafe is famous for it's local oxtail soup, Sop Buntut. It is available in tree different versions, cooked, grilled and  fried. The traditional street food  has turned into a sought after signature dish which is a must while you are in Jakarta.
Borgor Cafe
Hotel Borobudur
Jalan Lapangan Banteng Selatan
P.O.Box 1329
Jakarta 10710
Tel: +62 (0)21 3805555
Price Category: €€€
or
SCBD Pacific Mall
Level 5-57
Jl Jend Sudirman No 52-53
Daerah Khusus Ibukota Jakarta
Tel. +62 (0)21 57973238
Price Category: €€€
Waha Kitchen
The Waha Kitchen is located on the ground floor of the Kosenda Hotel. It is open 24 hours a day and serves a variety of classical Indonesian  and Peranakan food, which consists of a mix of Chinese and Indonesian cooking traditions. An absolute must the their delicious Laksa, the  signature dish of South East Asia. Comforting and rich in flavor this soup served as a full meal. The place is popular among locals and hotel guest alike. The very friendly staff makes you feel at home immediately. Cool place, cool people!
Waha Kitchen
Jl. KH Wahid Hasyim No.127
Jakarta 10240 Indonesia
Tel. +62 (0) 21 3193 6868
Fax. +62 (0) 21 3193 6767
http:// www.kosendahotel.com
Price category: €€
 Soto Betawi H. Ma'ruf
Soto Betawi H. Ma'ruf is an institution in Jakarta. Many say it serves the best Soto Betwai, another signature dish of Jakarta. The rich broth is filled with pieces of beef meat and/or beef offal, topped with fried onions and served with rice, pickles and sambal. Absolutely delicious! The place is small and  simple but always busy. No alcoholic drinks served.
Soto Betawi H. Ma'ruf
Taman Ismail Marzuki
Jl. Cikini Raya 73
Jakarta Pusat
Tel. +62 (0) 21 348817
Price category: €
Dapur Manih Sate Ku
I definitely had my best lamb saté ever at Dapur Manih Sate Ku. The meat is cut freshly from the bone and grilled over a sizzling hot special barbecue with great craftsmanship. Aromatic, juicy and fresher than fresh! The restaurant also serves other lamb meat dishes as well as rice and noodle dishes. You can also get beer.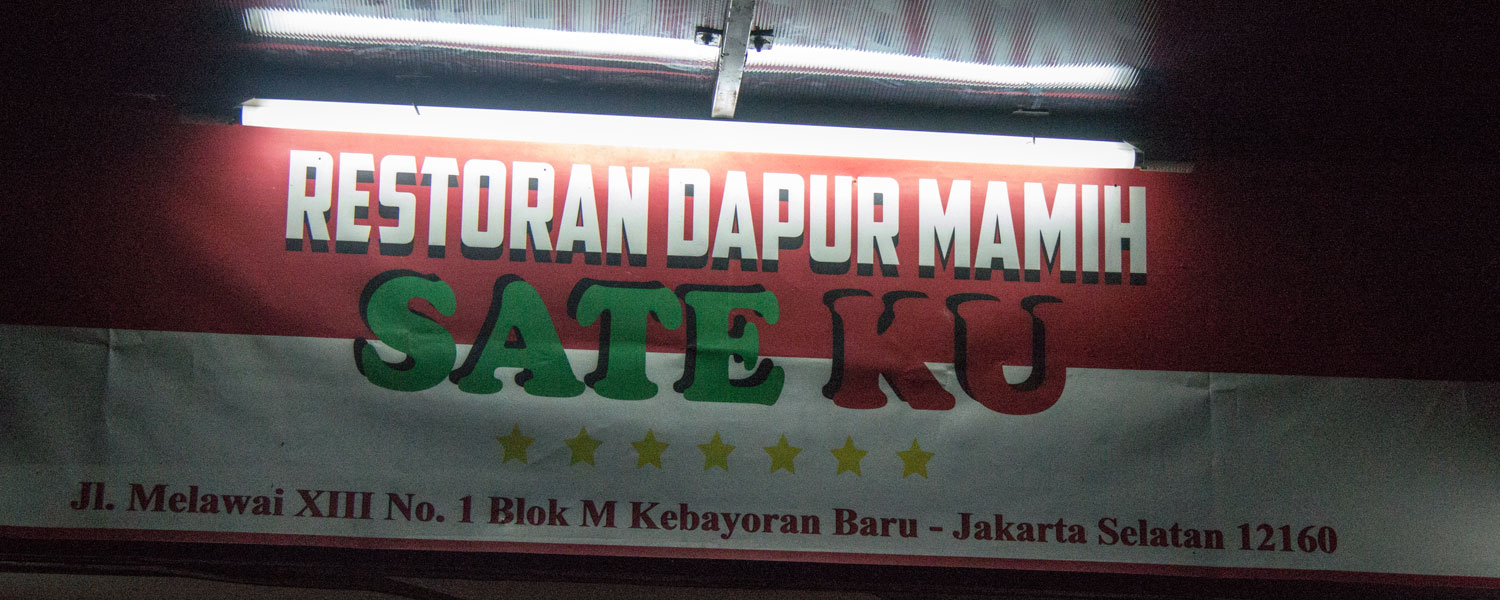 Dapur Manih Saté Ku
Jl. Melawai 13 No. 1
Melawai
Jakarta
Tel: +62 (0) 2129126556
Price category: €€
Ayam Taliwang Bersaudara- Hj. Baiq Hartini
This restaurant offers authentic food from the island of Lombok, the next island off the East coast of Bali. The distinguished taste of Lombok food stems from the abundant use of trassi, a fermented shrimp paste which is present in most Indonesian food. A typical dish is Ayam Taliwang, grilled chicken with a spicy chili sauce. Satè Pusat, made of minced beef and coconut, is another Lombok specialty. Also try Plecing Kangkung, fried water spinach with nuts, lime and shrimp paste. The restaurant is simple but very clean. No alcoholic drinks served.
Ayam Taliwang Bersaudara- Hj. Baiq Hartini
Jl. Panglima Polim IV / 125
Jakarta
Tel. +62 (0)21 7252863
Price category: €
Atjeh Rayeuk
The Atjeh Rayeuk is run by Astrid Enrick Dhita, a dedicated foodie. The place is a garden turned restaurant, simple but cozy. The restaurant serves food from Aceh, a region in the very North-West of the island of Sumatra. Typical for Aceh food is the influence of Chinese and Indian cooking traditions. The restaurant is famous for it's Ayam Tankap, marinated and deep-fried chicken with curry leaves and pandan leaves.
Atjeh Rayeuk
Ciranjang no. 38
Senopati, South Jakarta
Tel. +62 (0) 8567700892
Price category: €
Restaurant Méradelima
This restaurant is located in a large maison in South Jakarta. You dine in a very tasteful interior decorated with unique Peranakan ceramics, classic Indonesian ornaments and enlarged historic photographs on the walls. The restaurant serves authentic Peranakan cuisine which is a mix of Chinese and Indonesian culinary traditions. The menu offers a great variety of dishes, including salads and desserts with durian. Open for lunch and dinner. No alcohol is served.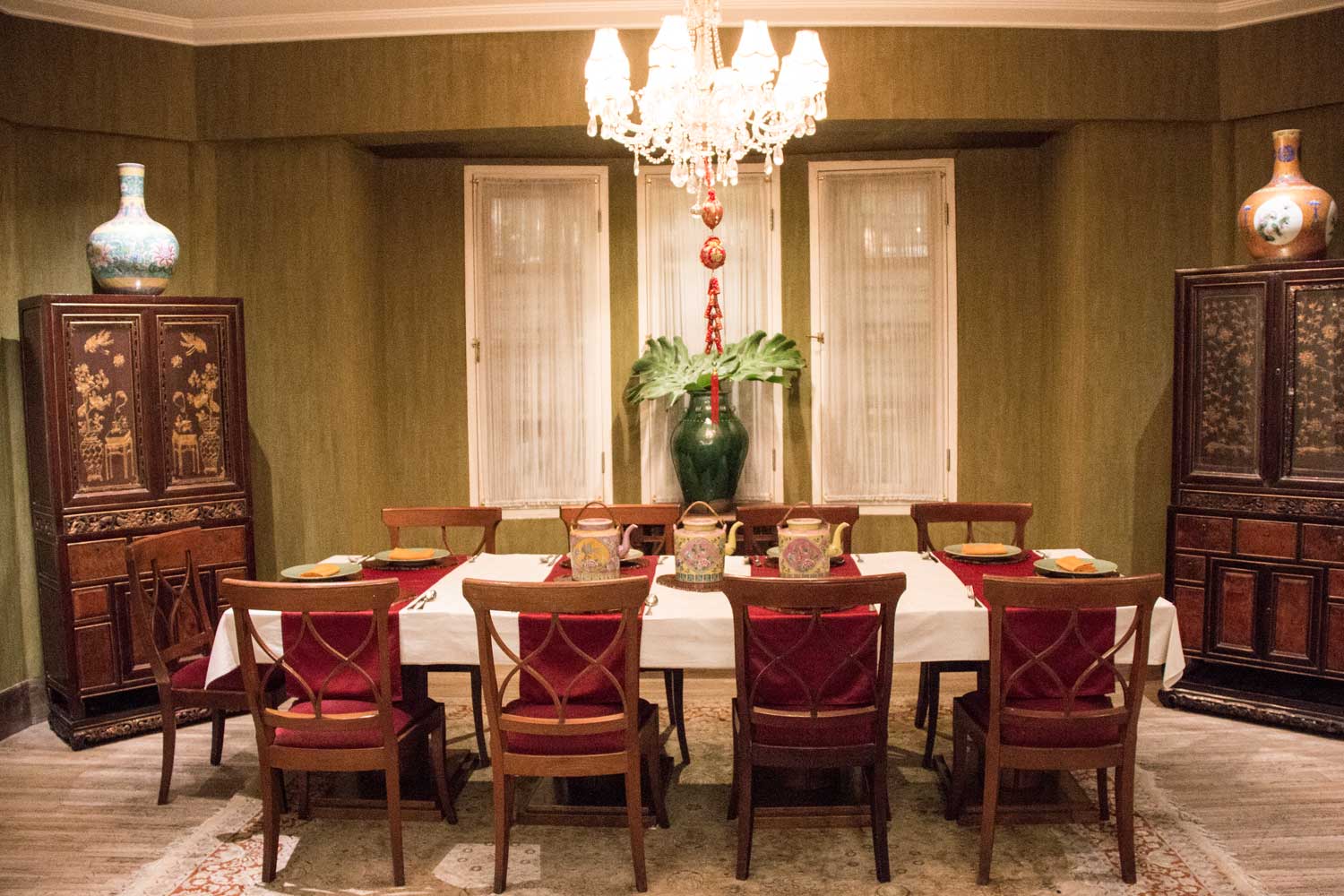 Restaurant Méradelima
Jl. Adityawarman No 47
Jakarta
Tel. +62 (0) 21 7265112
Price category: €€
Cafe Batavia
Café Batavia  is located in a 200-year-old building in the historical district of Kota, the remains of colonial Jakarta. The building, which has served as residence and office for the Dutch governors, was turned into a café in the 1930s. Located on the northwestern corner of Fatahillah Square, Batavia Cafe is the second oldest building in central Jakarta. In the spacious dining room on the first floor you can sit by the window and look through the large windows with their wooden shutters on Fatahillah Square while you enjoy Western or Indonesian dishes, snacks and desserts. Definitely a must if you want to get an idea how life in the colonial days felt like. In the bar/lounge there is live music from Tuesday to Saturday evenings.
Cafe Batavia
Jl Pintu Besar Utara 14
Kota
Jakarta
Tel. +62 (0)21 6915531
Price category: €€€
Cafe Bakoel
This is a great coffee place with nostalgic atmosphere. The Café  is one of three Jakarta outlets of the Bakoel coffee company.  Bakoel is a fourth generation family run coffee roaster with more than 100 years of tradition in roasting, blending and brewing coffee grown in Indonesia. The staff is young, very friendly and service oriented. You can come just for coffee and cake. If you are hungry you find  snacks, sandwiches and the classical saté dishes on the menu as well as different ice cream flavors.
Cafe Bakoel
Cikini Raya no. 25
Jakarta
Price category: €€
Jakarta Bars
Awan Lounge
Roof top bars are a big thing in the big cities of South East Asia. It is there where the nightlife takes place. The Awan Lounge on to of the Kosenda Hotel is an in-place for the young urban professionals in Jakarta. Surrounded by lush green you can sit and sip a cocktail while overlooking the glittering Central Jakarta skyline. The menu includes Asian tapas and saté from the barbecue.
Awan Lounge
Jl KH Wahid Hasyim No 127
Jakarta
Opening hours:
Sun-Thurs: 17.00 – 1.00
Fri -Sat: 17.00 2.00
Tel. +62 (0) 21 31936868
Bar in the Dharmawangsa Hotel
Looking for a cocktail or mocktail in style? Then the Dharmawangsa Hotel is the place for you. The hotel bar's signature drink is a Chocolate Martini which is served in a chilled glass with a chocolate fringe. Other cocktails are mixed with typical Indonesian flavors, such as the T&T: a blend of tamarind and turmeric, white rum, cointreau, syrup and sweet tamarind in shell. The bar keeper also treats you to delicious alcohol free drinks like Jingga made from ginger torch, mint leaves, lime leaves, syrup and hibiscus tea. Extremely helpful and friendly staff, relaxed atmosphere. If you want to enjoy a taste of luxury this is the place to be.
The Dharmawangsa Jakarta
Jl Brawijaya Raya No 26
Jakarta, 12160
http://www.the-dharmawangsa.com
Jakarta Street Food
It is impossible to stay hungry in Jakarta. You will find small vendors with their portable stalls all over the city, in basically every street. However, the level of hygiene is not up to the visitor's vulnerable stomach in many cases. Often it is not the food itself that makes people sick but the dishware that it is served on. Many food stalls use reusable plates which are cleaned in water that has sat in the sun all day and is full of germs and bacteria. I always investigate the cleaning bucket before I decide where to eat – this has been a successful strategy so far.
If you are interested in Street Food the night markets in Jalan Sabang and Jalan Jaksa are worth a visit. The variety of food, the bustling atmosphere and the smell of the barbecue is a nice experience, even if you only "eat with your eyes". If you want to be on the safe side, bring a disposable plate with you.
A taste of sweet Jakarta you can get at the street food stalls next to Shopping Centre Pasar Mayestik in South Jakarta. I found that the sellers here are more hygienic than in Jalan Sabang or Jalan Jaksa. Some even use disposable plates. Very nice fried pisang goreng, the traditional Indonesian fried bananas, you will find at Pa Manang's stall. Just ask for him!
Streetfood at Shopping Center Pasar Mayestik
Jalan Tebah III
Kebayoran Baru,
South-Jakarta 12120
Explanation Prices
Price category hotels per night/double room including breakfast
€€€€: from 200 Euro
€€€: from 100 Euro
€€: 80-100 Euro
Price category restaurants/bars – average price for one main dish
€€€€: from 12 Euro
€€€:  from 6 Euro
€€:  from 4 Euros
€:  under 4 Euros
For more posts on Jakarta please see also:
Jakarta Food Journal 1: Die Stadt, die Menschen und das Essen
Jakarta Food Journal 2: Nose-to-Tail Küche – Sop Buntut und Soto Betawi
Jakarta Food Journal 3: Saté, Saté, Saté
Jakarta Food Journal 4: Hotel Kosenda – Cool Place, Cool People, Cool Atmosphere
Jakarta Food Journal 5: Street Food – süße und herzhafte Snacks
Jakarta Food Journal 6 – Rezepte: Soto Betawi
Jakarta Food Journal 7 – Rezepte: Kohu Kohu – scharfer Kokos-Räucherfisch-Salat
Jakarta Food Journal 8: Tischlein deck dich auf indonesisch
My trip to Jakarta was organized by the Indonesian Ministry of Tourism