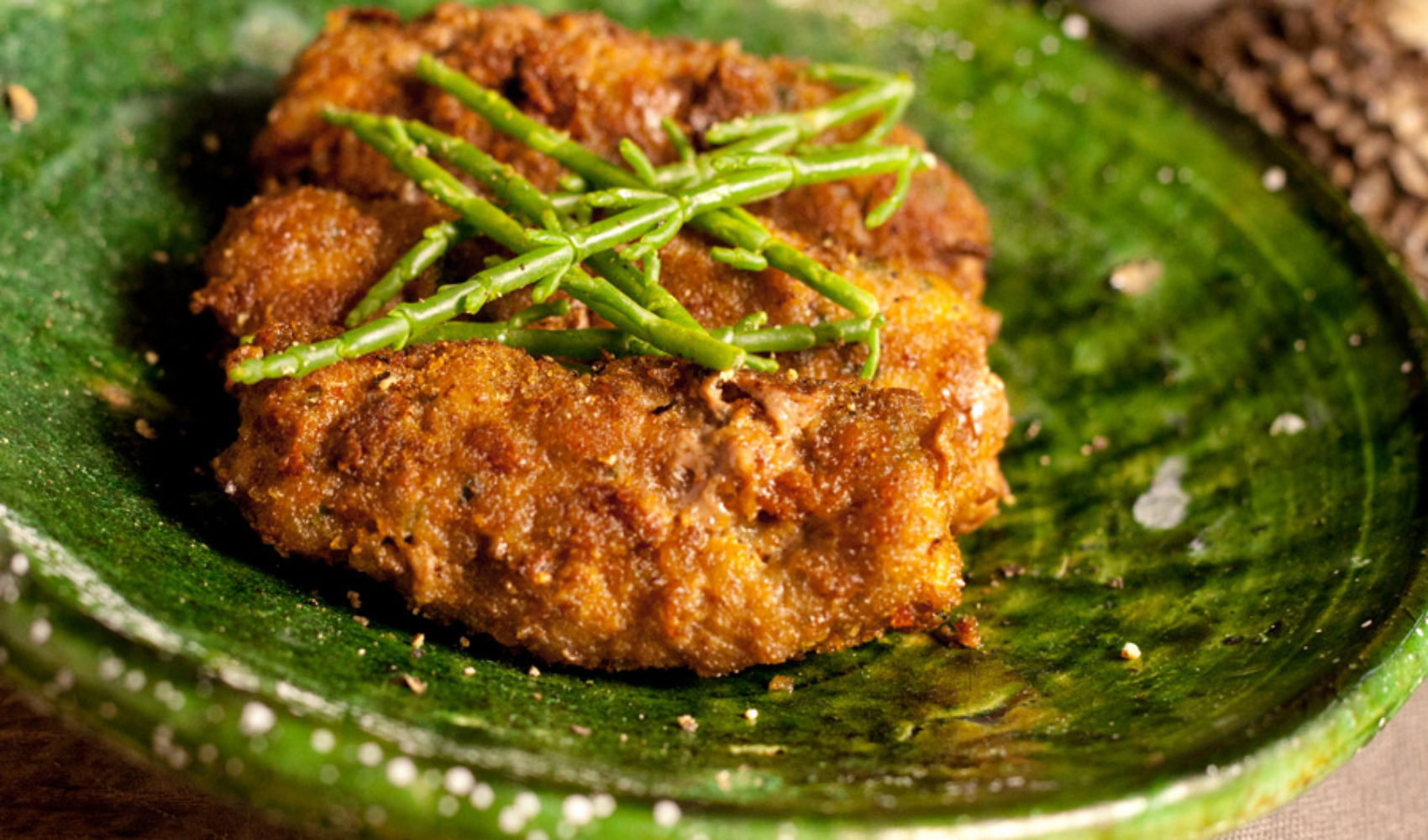 The recipes in Johnson Family Treasury range from orange pudding and stuffing for duck to preserves, pickles and cheese puffs. However, it was one dish in particular that caught my attention – oyster sausages.
Precious mix
These sausages are described as a blend of beef or mutton meat, scalded oysters and beef suet, which is raw hard beef fat found around the loins and kidneys with a low melting point. For us contemporary foodies it seems a bit of a waste to mix the now precious oysters with meat into a sausage which is rolled in bread crumbs and fried in butter.
In the mid 19th century however, oysters existed in abundance in England and were harvested along the Sussex coast. Oysters were cheap and therefore also a regular food of the poor working class. It was probably nothing special for the recipe author to throw in a couple of them into sausage. But beside that monetary issue there is also a culinary reason for combining beef and oysters. Niki Segnit explains in her The Flavor Thesaurus that the salty flavor of the oysters enhances and intensifies the flavor of beef. This is also the reason for the use oyster sauce in oriental beef dishes.
Room for improvisation
Since I live close to the Dutch coast and have access to the Dutch oysters farmed in Zeeland I decided to pick this recipe for my cooking experiment. Typical for the time, the instructions for the oyster sausage leave room for improvisation: "season them with salt, pepper and spice to your taste" is the vague advice of the writer. Spice in the time of globalization can mean anything from Mediterranean to Oriental to Asian flavors, so which way should I go? I decided to use lemon zest, dried chili pepper and fresh parsley in order to get a tasty but not overpowering result.
Close to the original?
Do my sausages come close to the original? I don't know but I think this is not the point of the experiment anyway. We cannot recreate the exact taste of food from the past. The quality of ingredients is different today and so is our cooking equipment. Also our acquired taste palette differs from those of eaters in the 19th century.
Mild and pure taste
When I prepared the oyster sausages I cut the original amount of suet down to a third because it seemed an awful lot of fat to me. With salt and spice I took guesses. Furthermore, I added chili flakes, parsley and lemon zest as my choice of spices.
Naturally, I was more than curious to try the sausages when they were done. The taste was mild and pure but a bit more salt and pepper would not have harmed them. The lemon zest, chili and parsley added a nice freshness to the meat taste. What I did not like so much was the texture and the bite of the suet which is unfamiliar to my taste palette. But for the rest – not bad at all!
Having grown up in Southern Germany and being used to sausages of all kinds I can only compliment the Johnson ladies! I would have loved to sit at their table to feast and exchange recipes had I lived at their time! 🙂
THE JOHNSON FAMILY TREASURY
A Collection of Household Recipes and Remedies, 1741 – 1848
Edited by Nathalie Cooke and Kathryn Harvey
Preface by Lynette Hunter
Transcribed by Erin Yanota
Rock's Mills Press 2015
Paper • 8 x 10 • ISBN: 978-177244-008-9 • 252 pp. • Price $34.95
Oyster Sausages
Zutaten
300

g

lean minced beef

6

fresh oysters

100

g

suet

2

eggs

1/2

bunch of fresh parsley

1 1/2

tsp

salt

1

tsp

freshly ground pepper

1/2

tsp

dried chili flakes

1

organic lemon

100

g

bread crumbs

butter or oil for frying
Anleitungen
Boil the oysters in water for about 5 minutes until they open.

Remove the pot from the stove and take out the oysters with a skimmer.

Let oysters cool down on a plate.

In the meantime cut the suet as finley as possible.

Wash parsley, remove leaves from the stem and cut the parsley as fine as possible.

Wash the lemon under hot water and rub down the zest.

Remove the oyster meat from the shell and cut in small pieces.

Place minced beef, suet, oyster meat, parsley, lemon zest and all the spices in a bowl. Add two eggs.

Mix everything together until you get a smooth paste.

Let the mixture rest for ten minutes in the fridge.

Take small portions of the meat mixture and roll into sausages with your hands.

Spread the bread crumbs on a plate and roll each sausage over the crumbs until it is covered well.

Heat 2-3 tbsp butter or oil in a frying pan. Over medium heat fry the sausages until golden brown and well done. The cooking time depends on the size of your sausage. Mine were done in about 10 minutes.

Let sausages rest on kitchen paper for a minute or so to get rid of the frying fat.

Serve warm with sweet mustard.
Notizen
Working with raw meat and eggs in the kitchen requires good hygenic practice: Clean hands, kitchen utensils and work space well after use with hot water and soap!
Merken